Meetings are held at:
Kiss Kiss Italian Restaurant, High Street, Elstree, Herts, WD6 3EU

Thursdays:- 12-30 for 12-45 start.
Rotary President 2016-17 - Nick Male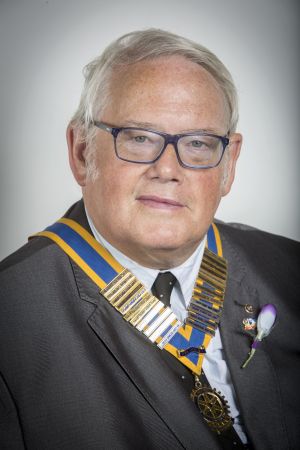 Nicholas Male, who was born in Plymouth in 1953, moved to live in the area in around 1955 when his late father George Male took up a new role at Elstree Rural District Council. Nick attended Borehamwood Grammar School and studied at Warwick University, and Wall Hall, becoming a primary school teacher; teaching in different area's of the country.
Nick took an interest in folk music from an early age, co-founding a local folk music group, the Woodmen, and the Borehamwood Folk Club, now Hertsmere Acoustic Club. He, with his music friends within the town, organise a monthly evening of music-making for all to enjoy,
Nick has also performed professionally throughout the country with a folk group, for all different types of events. Nick has also been, for several years, involved with the local town twinning association. A fluent speaker of both French and German, he is a valued and enthusiastic member of BETTA'S Management Committee. Nick has been involved over the years with different community projects and charitable organisations, serving amongst other roles in the Elstree and Borehamwood Town Crier editorial panel.
Nick is well respected in the community and organises folk evenings, Ceilidhs, Burns Nights - acting as Master of Ceremonies for these special function throughout the Town. With help from his Hertsmere Acoustic Club friends he has raised money for Rotary Club charities, Hertsmere MENCAP, The Otters Swimming Club (founded by his father) and the NSPCC - as well as many different worthy local and national charities - nothing is too much trouble for him.
In recent years Nick has joined the Catholic Parishes of Elstree and Borehamwood and is involved with different Church activities including starting a Borehamwood Branch of the St Vincent de Paul Society. Nick also has been involved in some local theatre projects, acting in a production of "A Man for All Seasons" where he played Cardinal Wolsey. Whenever a new person moves to the area, he always makes himself known, and welcomes these newcomers to the community.
Nick is also very involved with the Rotary Club of Elstree & Borehamwood, joining the organisation following in his father's footsteps, and is very proud to be President of the Rotary Club of Elstree and Borehamwood for 2016 – 17.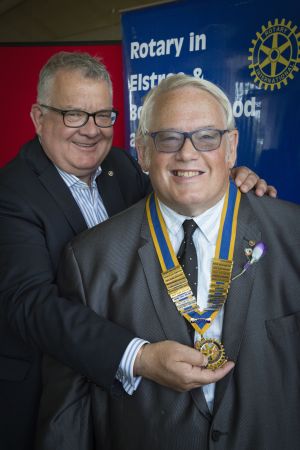 ---
Rotary Past President - Steve McNicholas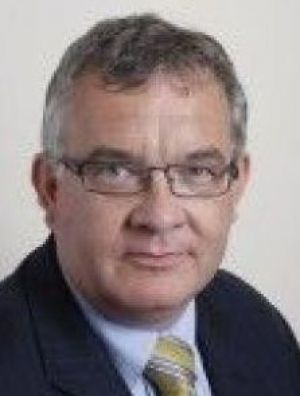 The Club had a successful year under Steven McNicholas's leadership, and here follows a few activities during his year of office:

Winning the London Rotary District Quiz Competition
Taking a party of children from Cowley Hill School as part of 'Kids Out Day 2016' to Whipsnade Zoo
Running a Rotary Charity Golf Day at Aldenham Golf Club, resulting in a cheque for £4,800.00 being presented to the Peace Hospice, Watford.
Running 'Know Your Blood Pressure Day, in association with the Stroke Association, at Morrisons Supermarket and at 96 Shenley Road, in Borehamwood.
Running the Annual Primary Technology Day at Monksmead School, in Borehamwood, that involved teams of four from each local primary school learning about rockets and building models.
Attending the Remembernce Day Parade 2015
Further information about the Rotary Club of Elstree and Borehamwood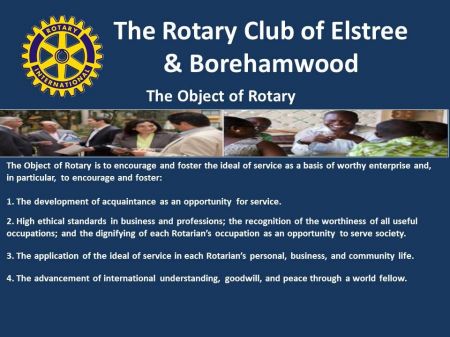 can be obtained from David Clout on 01923 854403.
---



---
Last updated:- 28tth May 2017